About the Journal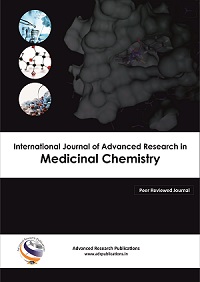 International Journal of Advanced Research in Medicinal Chemistry (IJARMC) is an open access and peer reviewed Journal publishing research in all areas of chemistry associated with drug discovery, design, and synthesis; relationship between molecular structure and biological activities. It provides insight into the design of compounds or understanding of mechanism, or clarifies the target.
Focus & Scope:
The focus and scope covers the following but is not limited to:
Medicinal chemistry
Pharmaceutical chemistry
Drug chemistry
Pharmaceutical drug synthesis
Drug delivery of chemotherapeutic agents
Chemical diversity
Multi-drug resistance
Structure activity relationships
Lipophilicity
Pharmacological Action
Amphiphilic Molecules in Drug Delivery Systems
Antimicrobial Therapy
Systems biology in drug discovery
Mechanism of action of organic compounds against different medical disorders
Heterocyclic chemistry
Natural products and their structural modifications
IJARMC focuses on creating a platform for the authors, academicians and the research community and publishes original research, review, short articles, case studies, industrial research etc.
We are also open for accepting advertisements in the Journal for wider circulation and global visibility of the same.